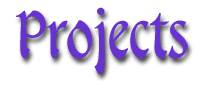 Facility - office, studio (setting up)
Cult recovery guidance through the Riverside Volunteer Center's - Dial 211 program. Here's a public service announcement about the 211 program. Here's some more info on the new 211 program and how it worked during Katrina.
Writing - Critique of FBI Law Enforcement Bulletin ~ Sept 1, 2000 ~ Interacting with "cults": a policing model. The editor of the FBI Law Enforcement Bulletin responds to my comments. Dialog with one of the authors regarding my comments.
Online activism - alt.support.ex-cult - a Usenet Newsgroup (public)
Recovery support for individuals and families (private/privileged).
Video Lecture about cults.
Musical recordings (ongoing)
Script for the Hollywood Christmas Parade. Here are some pictures of the afternoon setup being done for the 2003 parade.
Digital event photography for non profit organizations.
Digital sound recording for non profit organizations. (Example: Introduction to Sacred Heart Church School Charity Fashion Show - Mar 2005)
Marriage - Some pictures from my recent wedding to Jean
Services offered: Non-sectarian recovery support for former cult members and their families. Public event production, scripting, staging, sound and recording services for non-profit organizations and civic agencies. Confidential consultations. Lecture services.